PEAK PERFORMANCE
Peak Performance is a functional Scandinavian brand that looks great and works even better. From lightweight highly technical insulation jackets, the highest quality waterproof and windproof ski jackets through to padded down jackets and ski pants for everyday riding, Peak Performance covers it all.
See Collection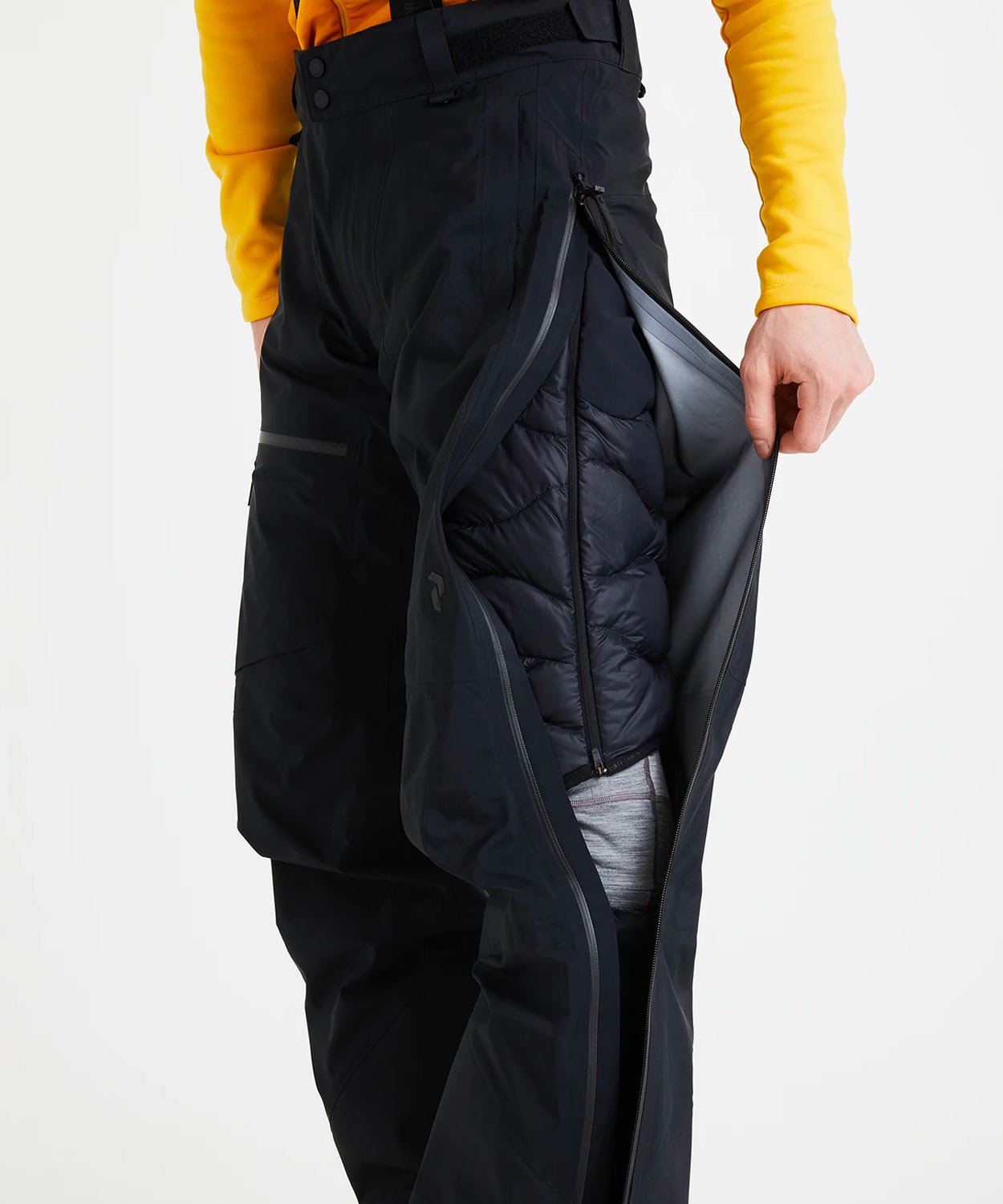 Tech Info
Closure Exposed zippers are YKK AquaGuard® Adjustable and removable suspenders Secure double closure with button and hook Zip fly Activity features Made for skiing, suitable for all snowsport activities Snow gaiters at bottom leg with anti-slip elastic Loops for snow skirt snap-in ski jacket system Cordura® reinforcement at bottom leg RECCO® Rescue System reflector Hem Adjustable velcro straps at waistband Pocket Zippered hand pockets Zippered leg pocket Zippered back pocket Construction Hanger loop inside waistband Fully seam sealed Belt loops Articulated legs Ventilation Full leg zippered ventilation ID P-logo rubber badge at leg Technology GORE-TEX 3L C-KNIT™
water proofing
Let's talk waterproofing and how the scale works.
Waterproofing is measured in numbers; 20k for example. The number refers to millimeters and the amount of pressure the fabric can stand before water starts to leak through. The easiest way to paint the picture is if you imagine 20 000 millimeter hollow tube. Let's now take that tube and place it on a 20 k fabric. If we then fill it up with water, the fabric will not let any water pass through. If this would have been a 15 k fabric though, you can probably imagine what would have happened instead? This is what the number means, but that's not how a jacket is used.
So, what does different numbers means to you and how to use our 1-5 scale? 
1: 3000mm ( Water Resistant )
Entry level - 3000mm is still considered waterproof but won't last for more than light rain.
2: 5000mm ( Snow Proof )
If you ride in cold and clear conditions, you can get away with this level. We don't recommend wearing this when the bad weather hits (unless you like being cold and wet).
3: 10 000mm ( Waterproof )
Wear this is you like long days on the mountain, even when there's bad weather. 10k is a good level.
4: 15 000mm ( Wateproof )
Rain and wet snow don't stand a chance with this. If you live in wetter climates (Australia we're looking at you) 15k is a good, if not great choice. It takes a lot to pass through the membrane.
5: 20 000k and up, also known as (Keep You Dry In Your Own Shower k)
If you enjoy the outdoors, skiing backcountry or need to be prepared for everything situation, you should be looking at 20k and up for waterproofness and breathability. You'll thank us later.    
Water Resistant
Snow Proof
Waterproof
Activity: Skiing | Touring | Heli Skiing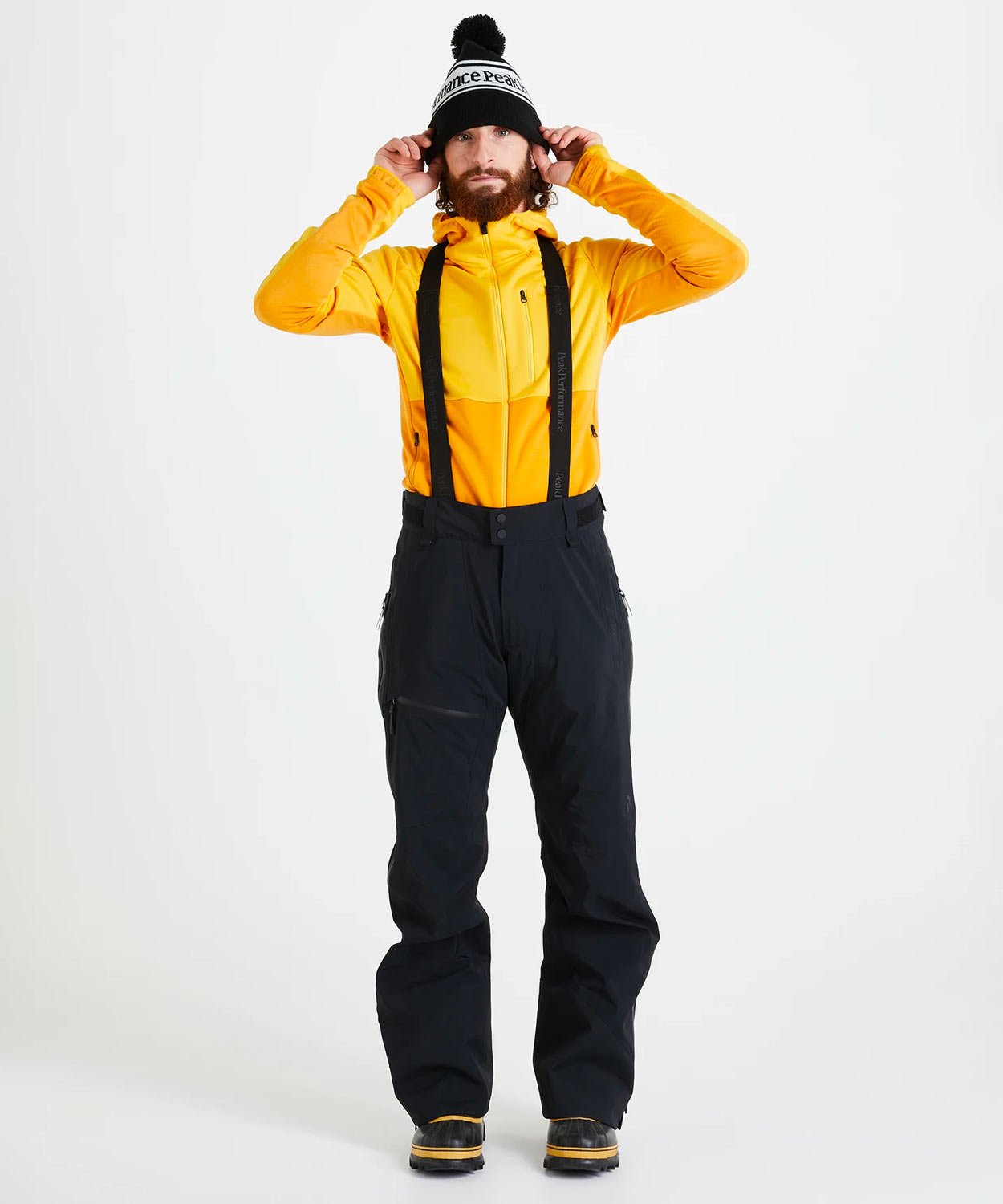 Featured
These highly durable shell pants have all the features needed for a full-blown off-piste adventure. Made from 3-layer Gore-Tex C-KNIT fabric, they're both soft and comfortable while providing outstanding breathability and protection against water and wind. Practical full leg ventilations allow you to easily control your temperature, and the built-in RECCO Rescue System Reflector is there for added safety.