The Mountain Studio
The Mountain Studio brand is created by Stefan Engström and Peter Blom, founders of the highly reputed Peak Performance brand, together with Marcel Hirscher, who without doubt is the greatest skier of our time.
See Collection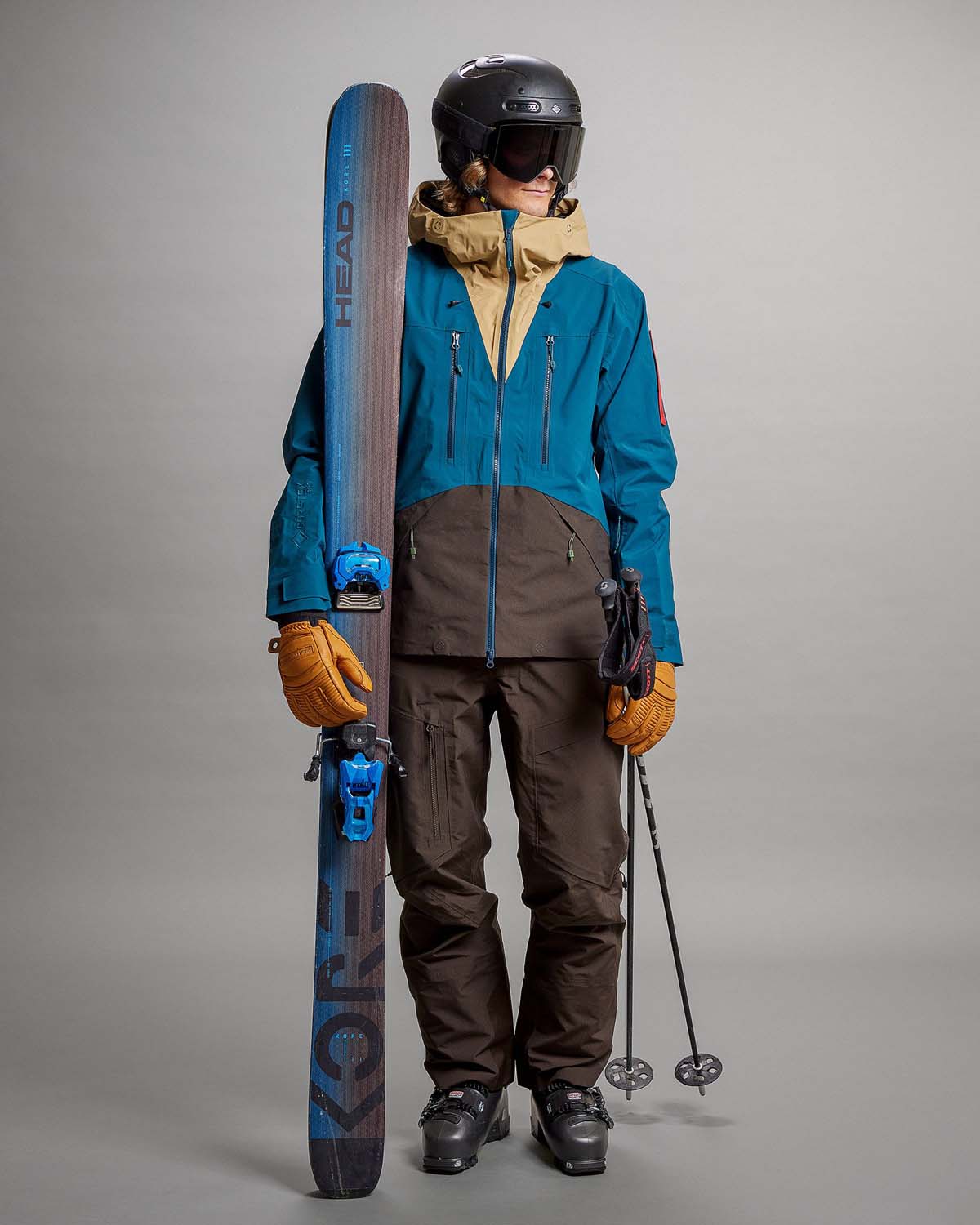 Tech Info
TOTALLY WINDPROOF Stops all wind, so you stay warmer for longer even when exposed to cold gales or icy storms. test VERY RUGGED GORE-TEX PRO products ensure the most durable, long-lasting protection —even in the most extreme conditions. DURABLY WATERPROOF This product reliably protects you with the GUARANTEED TO KEEP YOU DRY™ promise, keeping you dry even in a torrential downpour or harshest snow conditions. EXTREMELY BREATHABLE The highest level of breathability leads to less sweat accumulation, so you'll overheat less during intense activity, and stay warmer when you stop to rest. IMPROVED ENVIRONMENTAL FOOTPRINT The new GORE-TEX PRO products also come with recycled and solution dyed textiles that reduce water usage and CO2 emissions, creating a lower environmental footprint.
Warmth Rating
Staying Warm
In general, padded jackets are warmer but less versatile than shell jackets, which have little or no insulating material.
The story goes that natural down insulation is less bulky than synthetic padding but loses its thermal properties when it's wet, whereas synthetic insulation works better when wet but tends to be more bulky and not as easy to compress into a small package. However, newer forms of synthetic padding are less bulky and more compressible, mimicking down, and may even be stretchy and breathable.
 There are two types of scenarios when a skier purchases a jacket. 
Skier one: Likes to ski moderately to hard and can get warm when doing this. 
We recommend either a waterproof and breathable shell, paired with an insulation jacket. This allows you to stay warm when its a cold day. Or shed the insulation jacket on a warm day to utilise the light properties of a shell jacket.
Pros: You have a second functioning jacket which you can walk around town with or use a light travel jacket. 
Brand suggestions:
Peak Performance 
Black Yak
J.lindeberg
Cons: Purchasing a shell outer jacket and and insulation jacket can put some people off.  
Skier two: Can ski comfortably around doesn't like to push to hard and wants to wear the jacket to Apres ski. 
We recommend a Down or Primaloft insulated jacket. These provide the highest level of warmth around your vital organs. 
Pros: Warm and stylish jackets 
Cons: You can get to warm depending where you ski.
Brand Suggestions:
All brands make these jackets just look for an insulated jacket.
< 20°C
-20°C to -5°C
-5°C to 0°C
0+°C
water proofing
Let's talk waterproofing and how the scale works.
Waterproofing is measured in numbers; 20k for example. The number refers to millimeters and the amount of pressure the fabric can stand before water starts to leak through. The easiest way to paint the picture is if you imagine 20 000 millimeter hollow tube. Let's now take that tube and place it on a 20 k fabric. If we then fill it up with water, the fabric will not let any water pass through. If this would have been a 15 k fabric though, you can probably imagine what would have happened instead? This is what the number means, but that's not how a jacket is used.
So, what does different numbers means to you and how to use our 1-5 scale? 
1: 3000mm ( Water Resistant )
Entry level - 3000mm is still considered waterproof but won't last for more than light rain.
2: 5000mm ( Snow Proof )
If you ride in cold and clear conditions, you can get away with this level. We don't recommend wearing this when the bad weather hits (unless you like being cold and wet).
3: 10 000mm ( Waterproof )
Wear this is you like long days on the mountain, even when there's bad weather. 10k is a good level.
4: 15 000mm ( Wateproof )
Rain and wet snow don't stand a chance with this. If you live in wetter climates (Australia we're looking at you) 15k is a good, if not great choice. It takes a lot to pass through the membrane.
5: 20 000k and up, also known as (Keep You Dry In Your Own Shower k)
If you enjoy the outdoors, skiing backcountry or need to be prepared for everything situation, you should be looking at 20k and up for waterproofness and breathability. You'll thank us later.    
Water Resistant
Snow Proof
Waterproof
Activity: Skiing | Touring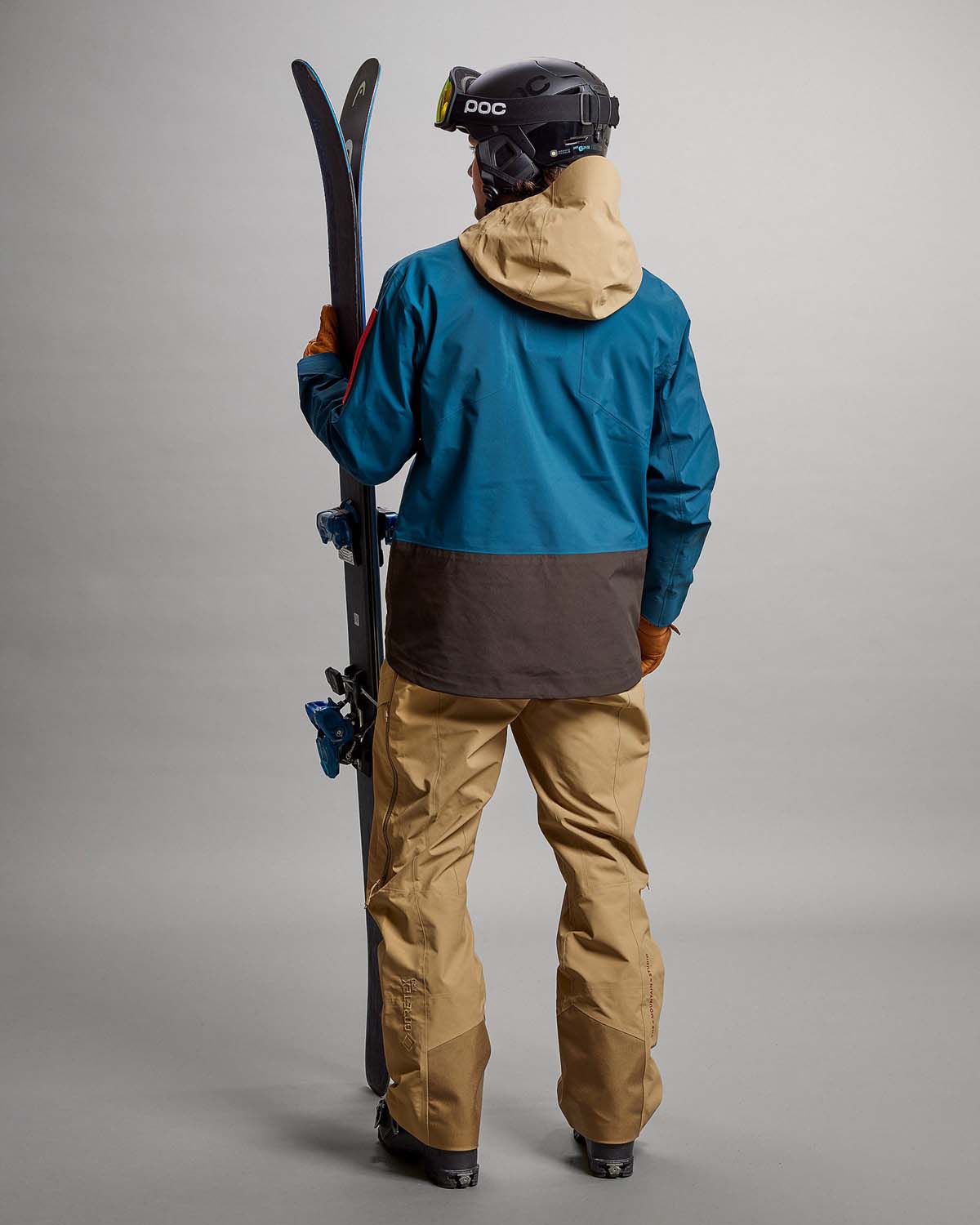 Featured
Carefully selected for its durability, the Z-2 HD utilizes a rugged 80 denier GORE-TEX® Pro fabric, capable of withstanding extreme conditions during skiing, snowboarding, and ski touring. Leveraging Gore technology, this jacket ensures lasting waterproofness, complete windproofness, and exceptional breathability. In this updated version, we have incorporated Cohaesive cord stoppers and a detachable snow skirt for added functionality.