Cordova
CORDOVA outfits the altitude seeking winter adventuress. Founded in January 2015, CORDOVA debuted its first collection Winter 2016 - inviting expression of personal style to the slopes. Founder & Creative Director, Jane Seim, designs environmentally and socially responsible, tailored ski and après ski ensembles for women who boldly seek altitude, delight in the thrill of the descent and relish in mountain leisure without sacrificing style and performance. Jane and Co-Founder Cody Seim, along with their team of brilliant, passionate women strive to create an environment for self-expression, courage and play on and off the slopes. Ultimately, CORDOVA's designs are a reflection of the women who wear them - inspired, timeless, and confident.
See Collection
Tech Info
Sensil® Heat technology yarn and Sensil® EcoCare Recycled Nylon Seamless knit ribbed fabric Fabric made with repurposed coffee bean shells Moisture and odor management High-waisted pant Branded waistband Made in Colombia
Warmth Rating
Staying Warm
In general, padded jackets are warmer but less versatile than shell jackets, which have little or no insulating material.
The story goes that natural down insulation is less bulky than synthetic padding but loses its thermal properties when it's wet, whereas synthetic insulation works better when wet but tends to be more bulky and not as easy to compress into a small package. However, newer forms of synthetic padding are less bulky and more compressible, mimicking down, and may even be stretchy and breathable.
 There are two types of scenarios when a skier purchases a jacket. 
Skier one: Likes to ski moderately to hard and can get warm when doing this. 
We recommend either a waterproof and breathable shell, paired with an insulation jacket. This allows you to stay warm when its a cold day. Or shed the insulation jacket on a warm day to utilise the light properties of a shell jacket.
Pros: You have a second functioning jacket which you can walk around town with or use a light travel jacket. 
Brand suggestions:
Peak Performance 
Black Yak
J.lindeberg
Cons: Purchasing a shell outer jacket and and insulation jacket can put some people off.  
Skier two: Can ski comfortably around doesn't like to push to hard and wants to wear the jacket to Apres ski. 
We recommend a Down or Primaloft insulated jacket. These provide the highest level of warmth around your vital organs. 
Pros: Warm and stylish jackets 
Cons: You can get to warm depending where you ski.
Brand Suggestions:
All brands make these jackets just look for an insulated jacket.
Activity: Après or Mid-layer| Base layer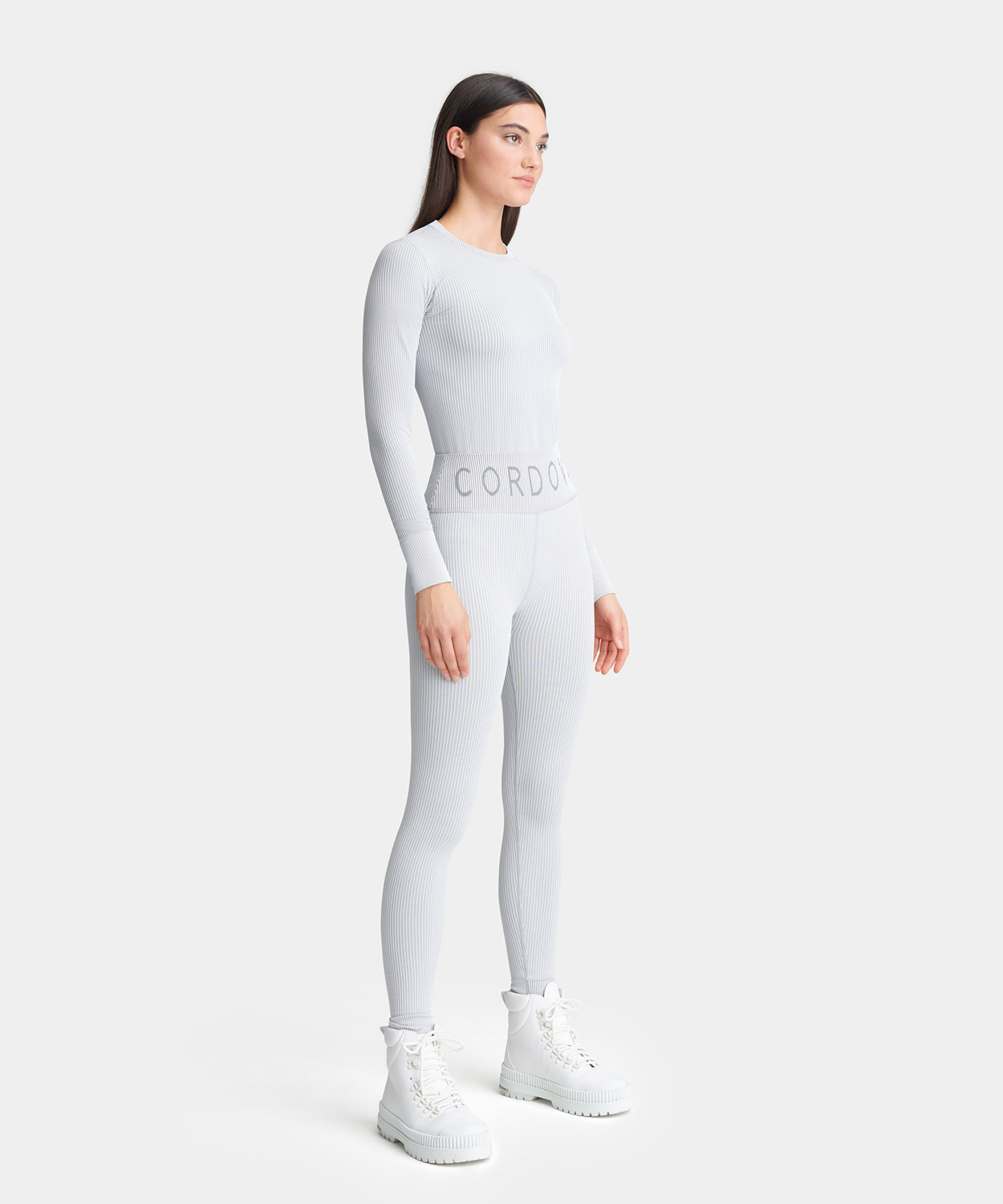 Featured
Guaranteed to be your new favorite athleisure wear, our base layers are made to keep you warm on the slopes and en route to the coffee shop. Sensil® Heat Technology fabric uses repurposed coffee bean shells for natural insulation, with added moisture and odor control while a compression knit highlights your figure. Prepare for compliments!