Parajumpers
Parajumpers is a project deriving from the cooperation between Ape and designer Massimo Rossetti, who has many years of experience as a designer of outerwear, and also as an importer of American brands for the Italian market. A meeting with a serving member of the 210th Rescue Squadron in an ill-famed bar in Anchorage, Alaska provided inspiration for  Massimo Rossetti's latest creation. The result is an extremely innovative outerwear collection with highly technological components, designed above all else to be functional.
See Collection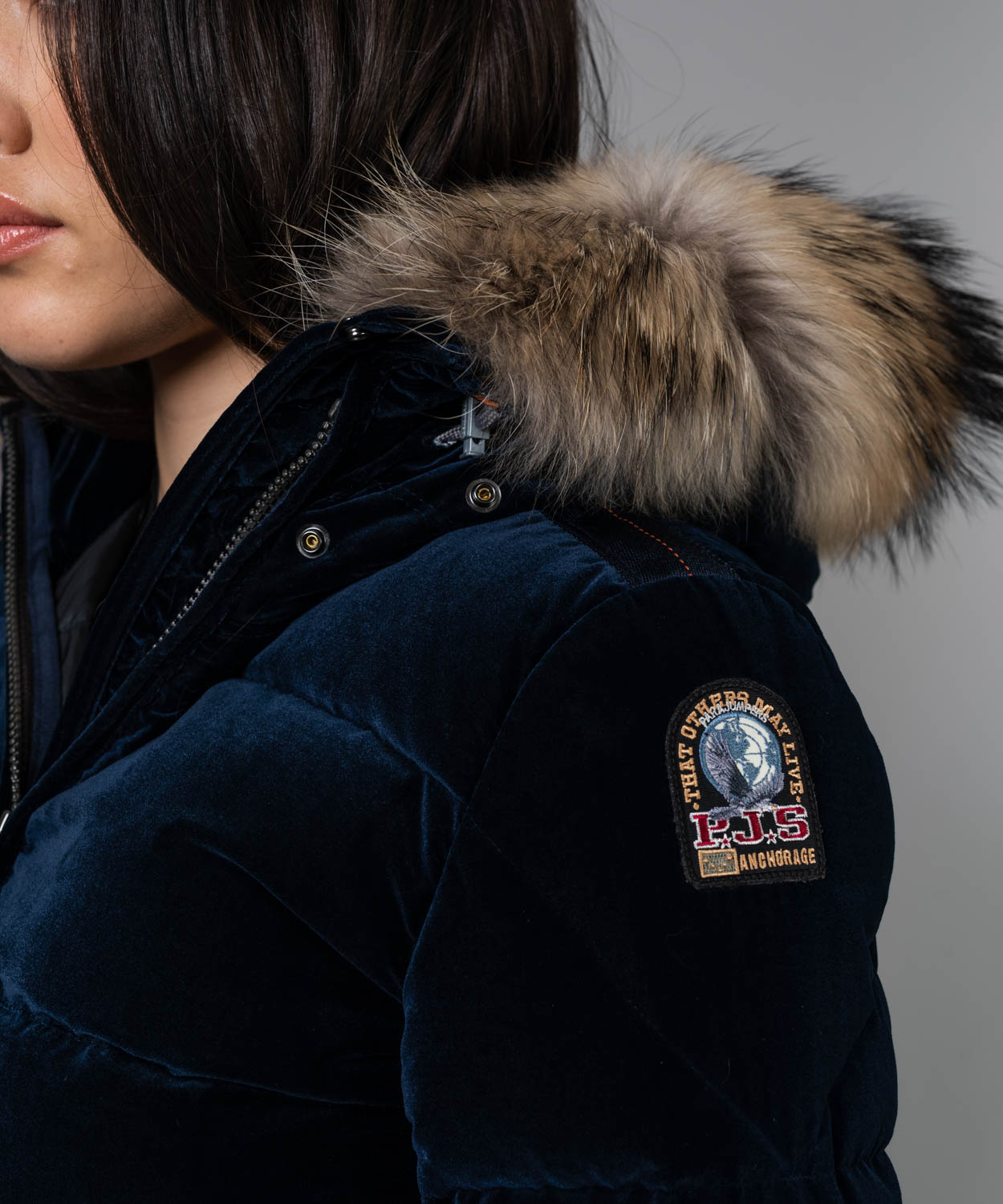 Tech Info
Gorgeous Velvet outer lined with down to a loft rating of 700. Horizontal baffle pattern. Asiatic racoon fur hood, sourced sustainably from Finland. Hood is detachable, for a customisable look. Two zippered side ventilation vents for maximum breathability. A two-way front zipper is complemented by an elastic strap neck closure, designed for premium protection against the elements.
Warmth Rating
Staying Warm
In general, padded jackets are warmer but less versatile than shell jackets, which have little or no insulating material.
The story goes that natural down insulation is less bulky than synthetic padding but loses its thermal properties when it's wet, whereas synthetic insulation works better when wet but tends to be more bulky and not as easy to compress into a small package. However, newer forms of synthetic padding are less bulky and more compressible, mimicking down, and may even be stretchy and breathable.
 There are two types of scenarios when a skier purchases a jacket. 
Skier one: Likes to ski moderately to hard and can get warm when doing this. 
We recommend either a waterproof and breathable shell, paired with an insulation jacket. This allows you to stay warm when its a cold day. Or shed the insulation jacket on a warm day to utilise the light properties of a shell jacket.
Pros: You have a second functioning jacket which you can walk around town with or use a light travel jacket. 
Brand suggestions:
Peak Performance 
Black Yak
J.lindeberg
Cons: Purchasing a shell outer jacket and and insulation jacket can put some people off.  
Skier two: Can ski comfortably around doesn't like to push to hard and wants to wear the jacket to Apres ski. 
We recommend a Down or Primaloft insulated jacket. These provide the highest level of warmth around your vital organs. 
Pros: Warm and stylish jackets 
Cons: You can get to warm depending where you ski.
Brand Suggestions:
All brands make these jackets just look for an insulated jacket.
< 20°C
-20°C to -5°C
-5°C to 0°C
0+°C