friends with frank.
Our approach to sustainability goes hand-in-hand with our core mission: to create beautifully made pieces that bring our customers great joy to wear; bringing together timeless design, high-quality materials and expert craftsmanship. The lifespan of our garments is carefully considered and we actively avoid trends that will become obsolete in a season or two. While we update our range every year, many of our designs remain part of our core collection we carry across multiple seasons; a true testament to their enduring design and popularity within our community. The spirit of buying less, but choosing well is also at the heart of the Friends with Frank
See More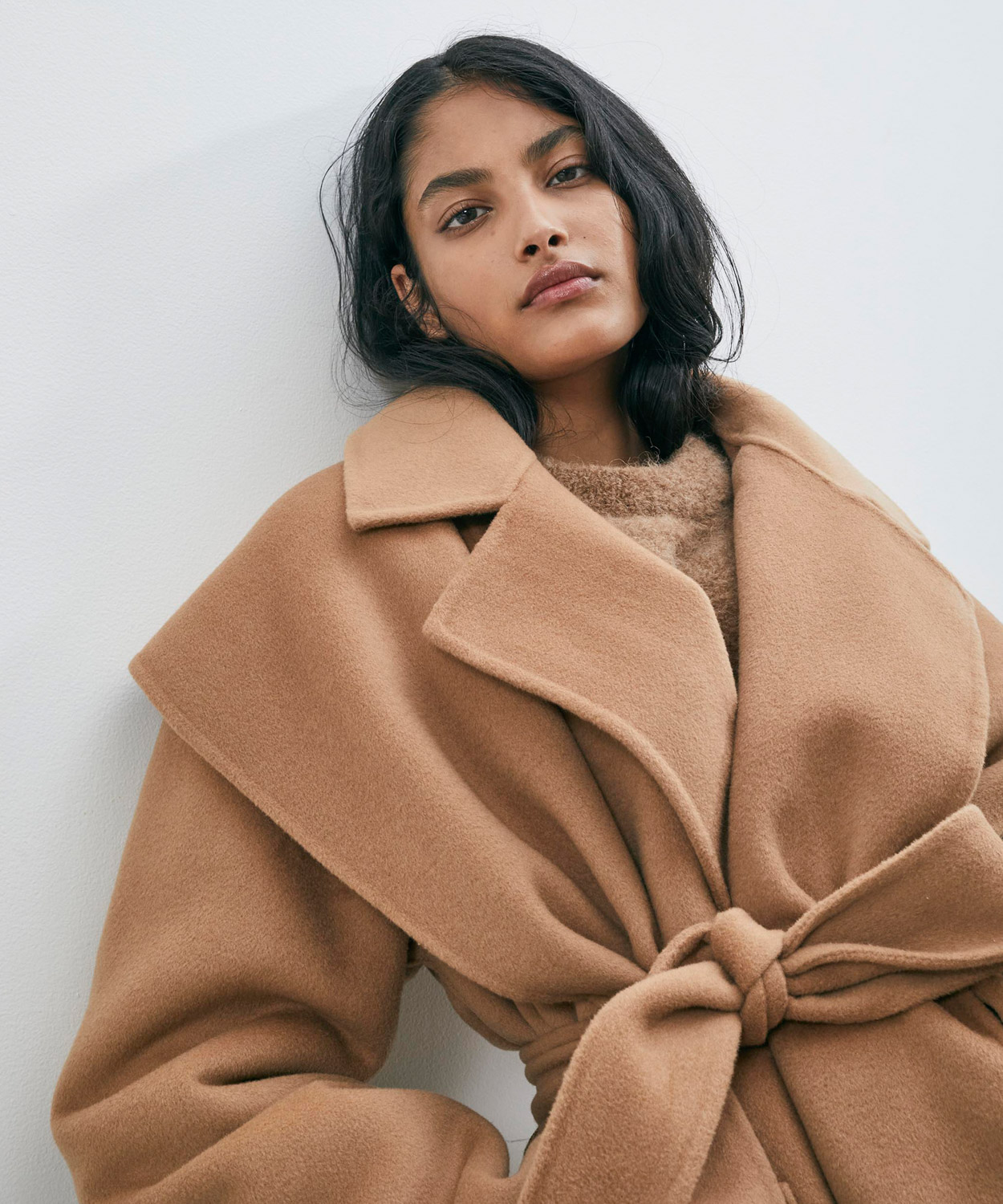 Tech Info
Hand-sewn Double-faced fabric Notch lapels Large drop pockets Optional self-tie belt Sewn-in belt loops 90% Australian wool, 10% cashmere Dry clean only
Warmth Rating
Staying Warm
In general, padded jackets are warmer but less versatile than shell jackets, which have little or no insulating material.
The story goes that natural down insulation is less bulky than synthetic padding but loses its thermal properties when it's wet, whereas synthetic insulation works better when wet but tends to be more bulky and not as easy to compress into a small package. However, newer forms of synthetic padding are less bulky and more compressible, mimicking down, and may even be stretchy and breathable.
 There are two types of scenarios when a skier purchases a jacket. 
Skier one: Likes to ski moderately to hard and can get warm when doing this. 
We recommend either a waterproof and breathable shell, paired with an insulation jacket. This allows you to stay warm when its a cold day. Or shed the insulation jacket on a warm day to utilise the light properties of a shell jacket.
Pros: You have a second functioning jacket which you can walk around town with or use a light travel jacket. 
Brand suggestions:
Peak Performance 
Black Yak
J.lindeberg
Cons: Purchasing a shell outer jacket and and insulation jacket can put some people off.  
Skier two: Can ski comfortably around doesn't like to push to hard and wants to wear the jacket to Apres ski. 
We recommend a Down or Primaloft insulated jacket. These provide the highest level of warmth around your vital organs. 
Pros: Warm and stylish jackets 
Cons: You can get to warm depending where you ski.
Brand Suggestions:
All brands make these jackets just look for an insulated jacket.
< 20°C
-20°C to -5°C
-5°C to 0°C
0+°C
water proofing
Let's talk waterproofing and how the scale works.
Waterproofing is measured in numbers; 20k for example. The number refers to millimeters and the amount of pressure the fabric can stand before water starts to leak through. The easiest way to paint the picture is if you imagine 20 000 millimeter hollow tube. Let's now take that tube and place it on a 20 k fabric. If we then fill it up with water, the fabric will not let any water pass through. If this would have been a 15 k fabric though, you can probably imagine what would have happened instead? This is what the number means, but that's not how a jacket is used.
So, what does different numbers means to you and how to use our 1-5 scale? 
1: 3000mm ( Water Resistant )
Entry level - 3000mm is still considered waterproof but won't last for more than light rain.
2: 5000mm ( Snow Proof )
If you ride in cold and clear conditions, you can get away with this level. We don't recommend wearing this when the bad weather hits (unless you like being cold and wet).
3: 10 000mm ( Water Proof )
Wear this is you like long days on the mountain, even when there's bad weather. 10k is a good level.
4: 15 000mm ( Water Proof )
Rain and wet snow don't stand a chance with this. If you live in wetter climates (Australia we're looking at you) 15k is a good, if not great choice. It takes a lot to pass through the membrane.
5: 20 000k and up, also known as (Keep You Dry In Your Own Shower k)
If you enjoy the outdoors, skiing backcountry or need to be prepared for everything situation, you should be looking at 20k and up for waterproofness and breathability. You'll thank us later.    
Water Resistant
Snow Proof
Waterproof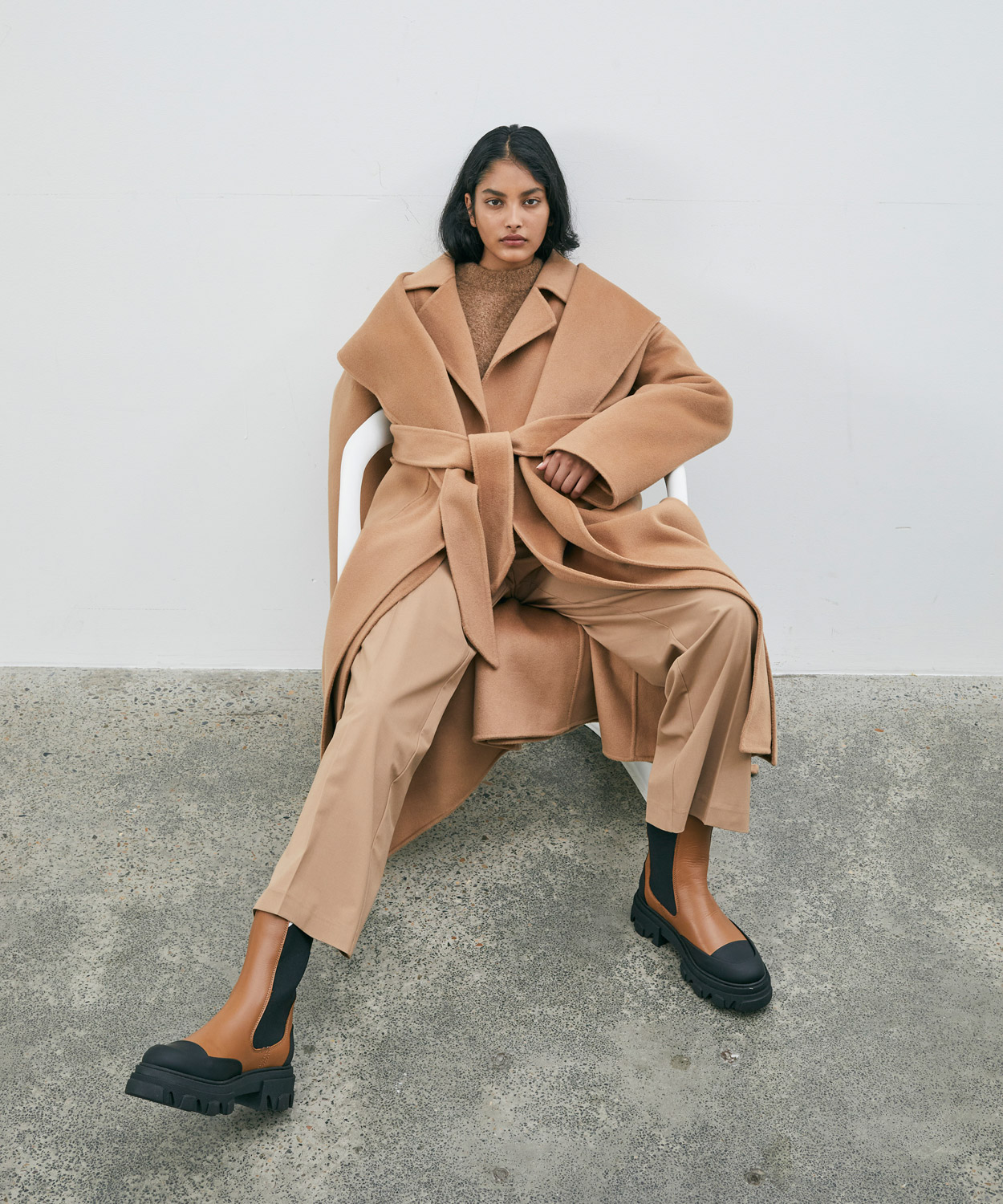 Featured
The Camilla Coat is a luxurious investment piece, designed to be worn throughout a lifetime. Crafted by hand from an ultra soft wool-cashmere blend, the Camilla is expertly tailored in an oversized silhouette, that can be cinched in at the waist by a detachable belt. Expert craftsmanship, luxuriously soft cashmere, and relaxed tailoring makes this coat an effortless staple you will come back to season after season.